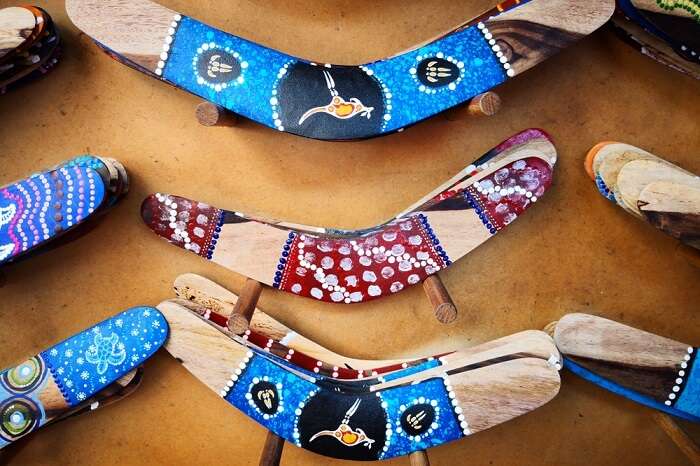 Going back from Australia empty handed? Don't! You'll regret not taking back a part of the rich heritage and culture of this amazing country in the form of locally produced goods. A holiday Down Under isn't complete unless you have stocked your luggage with some of the most popular things to buy in Australia. Whether you pick them for yourself or a loved one, each of these items is unique to Australia and will always remind you of the amazing time you had on your vacation.
10 Essential Things To Buy In Australia
Listed below are some of the best things you can only buy in Australia if you're looking for the most authentic and genuine products and not copies.
1. Tim Tams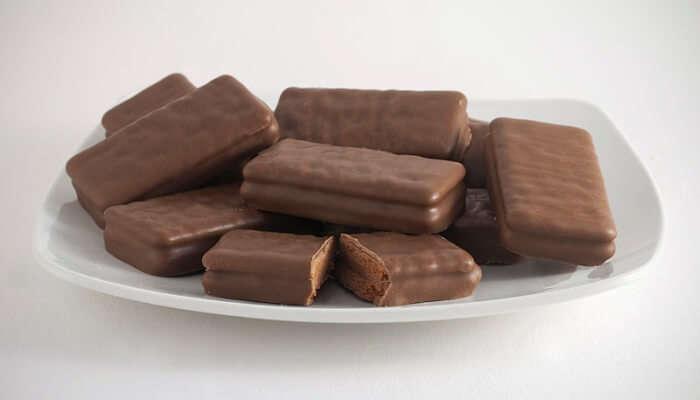 You can't leave for home without getting a score of packets of Australia's beloved cream sandwich from Arnott. In fact, take a lot more. We don't want you to regret not bringing in more when it becomes a huge hit amongst your friends and family back home! It is one of the most famous things to buy in Australia and come in different flavors. So make you try them all before you settle down with a particular flavor.
Where to buy: Woolworth's
Starting price: INR 90 (AUD 1.80)
2. Haigh's Chocolates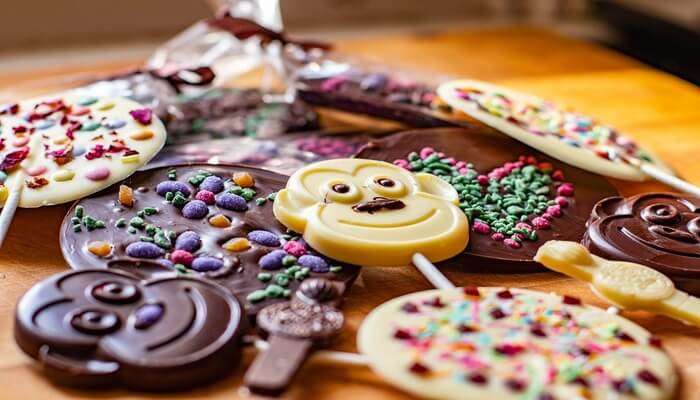 If you're traveling to Australia, you'd obviously visit the city of Sydney, right? Well, in that case, make sure you stop by the Queen Victoria Building (which is one of the best attractions in the city) where you'll be able to see the small store of Haigh's Chocolate and a huge crowd lining up outside to taste these delicious bars. The store was opened way back in 1915 and has over 15 stores around the country. These popular artisan chocolates are made and even wrapped by hand and are surely one of the best things to shop in Australia for your folks back home.
Where to buy: Haigh's Chocolates, Queen Victoria Building, Sydney
Starting price: INR 50 for 6 grams (AUD 0.90)
3. Tea And Coffee Beans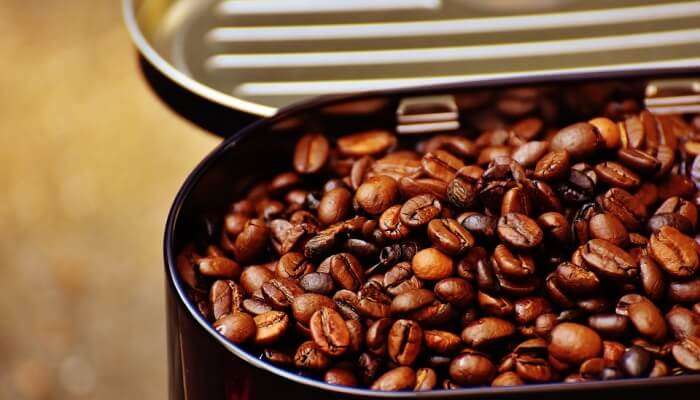 It might surprise you to know that the best things in Australia to buy also include its tea and coffee. T2 happens to be an elite Australian chain of specialty tea shops that offer an extensive range of tea available year round. You'll also love to experience the great taste of ground and roasted Melbourne coffee at many of the cafes in this city. When you're here, you can also grab some of your favorite types of tea and coffee beans to take as a gift back home.
Where to buy: 269 Little Collins St, Melbourne
Starting price: INR 840 (AUD 17)
4. Wine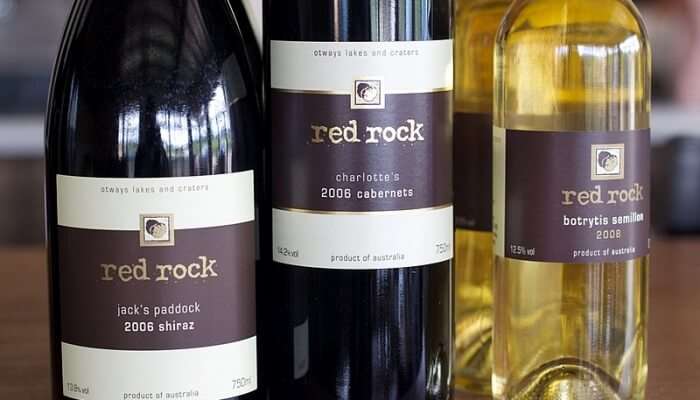 Don't forget to take back bottles of the finest Australian wine from Melbourne's Yarra Valley. All you have to do is make a day trip to this exotic and beautiful vineyard in order to get these delicious wine as well as a tempting gourmet tour which typically includes a range of wine, cheeses, and chocolates. Wine is anyway the best things to buy in Australia to give as a present to your friends and family, and of course, yourself!
Where to buy: Coombe Yarra Valley
Starting price: INR 1,800 (AUD 24)
5. Lucas' Papaw Ointment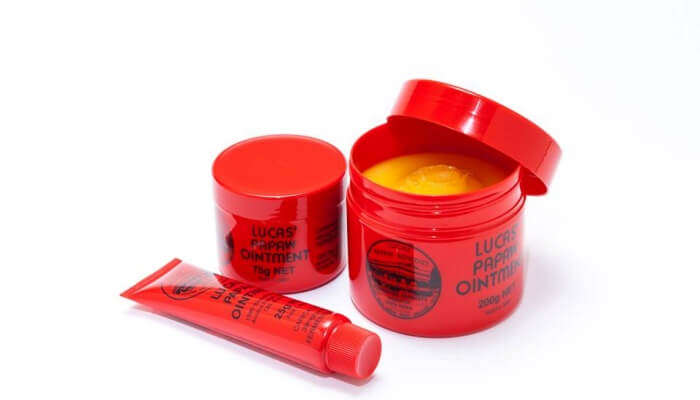 The Australian Papaw or Papaya is a very beneficial fruit and can cure a number of skin ailments. Made from these papaws, the Lucas' Papaw Ointment from Lucas' Papaw Remedies is an extremely popular ointment amongst the local population as well as for people traveling to this country. For decades it has served as the number one remedy for minor burns, rashes, chafing, insect bites, splinters, and is even used as a lip balm. Winner of the 'Lip Balm' category in TripAdvisor's Travelers Choice Award in 2014 and 2015, this is one of the best items to buy in Australia if you wish to give something useful and beneficial to your loved ones.
Where to buy: Woolworths/ Cole's/ Big W Department Stores/ Priceline Pharmacies
Starting price: INR 260 (AUD 5.25)
6. Ugg Boots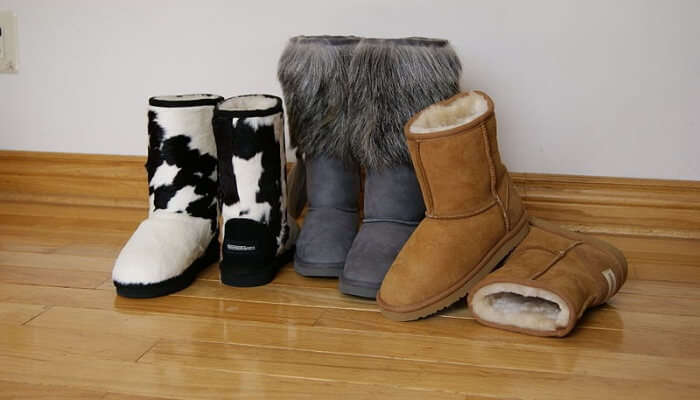 Yes, they are made from animal skin. Sorry PETA! Nevertheless, these are one of those utterly cool things to buy in Australia that will up the fashion quotient of your attire and make heads turn! Other than a fashionable accessory for yourself, they'll also make great gifting items for your lady gang back home. You must not skip buying these Australian sheepskin boots when you're here, and you must not try to find out how they're made if you're an animal lover!
Where to buy: Australian Ugg Original
Starting price: INR 4,400 (AUD 89)
7. Kangaroo Leather Products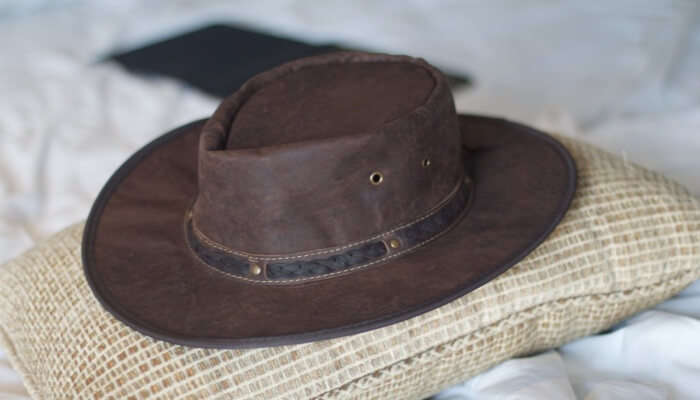 If you're into leather products, then you'll surely love the kangaroo leather products made at Real McCaul. It's the best firm in Australia that specialises in designing leather goods like jackets, shoes, wallets, bags, and more made out of kangaroo skin. But why Kangaroo? Well, because Kangaroo leather has proven to be the most durable kind of leather in the world courtesy its thickness which makes it very unlikely to rip off, something you won't find in your average crocodile skin leather. It's high quality makes it one of the best things to purchase in Australia.
Where to buy: Real McCaul, 77 Memorial Dr Eumundi, Queensland
Starting price: INR 1,400 (AUD 29)
8. Opal Jewelry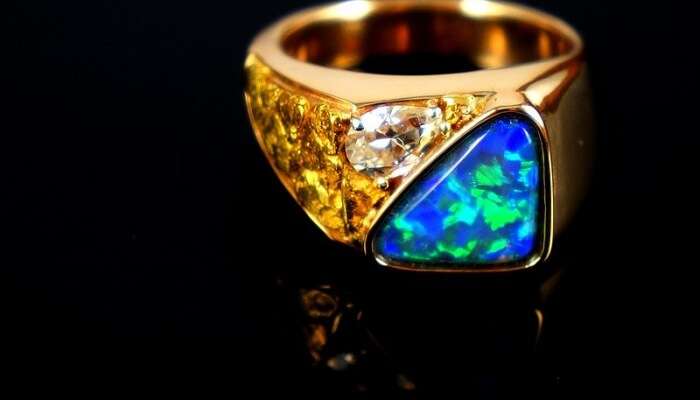 Opal happens to be the national gemstone of Australia and the top item on every female traveler's list who visits this marvelous country. In fact, even Sydney's public transport card is called the Opal Card. There are various authentic stores across Australia where you can purchase Opal gems and beautiful Opal jewelry at reasonable rates. In fact, Opal jewelry should top the list of things you should buy in Australia if you have a special lady in your life. You can buy this from the various Pandora outlets spread across the country.
Where to buy: Opal Minded, 55 George St, The Rocks NSW 2000, Australia
Starting price: INR 73,000 (AUD 15,000)
9. Australian Handicrafts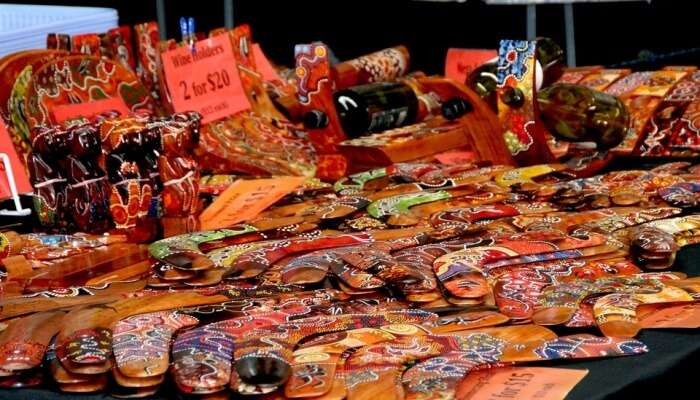 The authentic aboriginal art of Australia will surely intrigue you. And guess what, you can take a bit back home with you! You'll find lots of things to buy in Australia if you're looking for genuine handmade goods like wall hangings, tablecloths, bags, sculptures, and aboriginal art pieces. If not anything else, make sure you buy the traditional boomerangs, which serve as a weapon for the aboriginal hunters here. Your purchases would also greatly help the local communities there, since the members of the Indigenous Artists and Communities are provided royalties for their designs that are sold at Bulurru Australia.
Where to buy: Bulurru Australia
Starting price: INR 1,000 (AUD 19)
Tip: You can buy boomerangs from Oz Gifts at The Rocks Shop at 11 The Rocks Centre for around AUD 16 or more.
10. Didgeridoo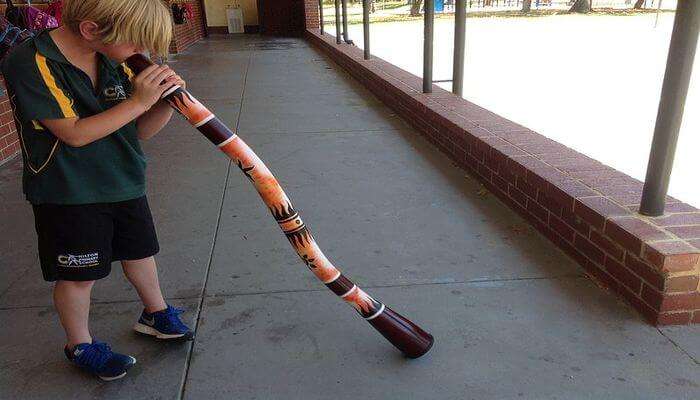 In case you're searching for more culture-centric things you must buy in Australia, then you can purchase some authentic Didgeridoos to take home and delight your friends and family with! This is yet another awesome product of native Australians that is essentially a wind instrument similar to a trumpet or pipe. The major difference is that this one can be as long as 10 feet! It would make up for a great gift or a fantastic home decor item that your musically-inclined friends will definitely be charmed with.
Where to buy: Spirit Gallery
Starting price: INR 6,800 (AUD 140)
These will surely make some beautiful gifts for your near and dear ones once you're back from your holiday in Australia. So, which of these traditional and popular things to buy in Australia are you willing to grab off the shelves first? Don't forget to tell us all about your shopping experience in Australia upon your return!